SOLO OPEN STUDIOS 2018: SILK ROAD STORIES
(At Studio 355, San Francisco)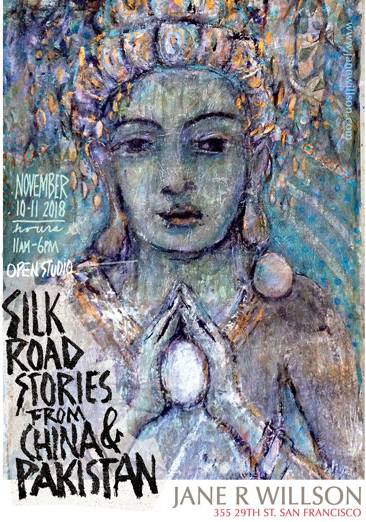 In September I traveled more than 3,200 miles with my friend Sue Light--from Xian, China to Islamabad, Pakistan. Our quest was to explore the ancient Silk Road, in all its antiquity and modernity. We hopped trains, buses and hired the occasional car to visit Tibetan monasteries, Gobi desert ruins, Buddhist's caves, oasis civilizations, bazaars and China's new high-rise "ghost towns." Our journey also led us over the Karakoram Highway, which weaves its way through five great mountain ranges: the Pamir, the Kunlun, the Karakoram, the Hindukush and the Himalaya - to bring us to Pakistan's legendary Hunza Valley.
Please join me in celebrating the Silk Road, through new stories, new paintings, a zillion photographs, Silk Road cuisine and, of course, libations. Bring your friends and loved ones and plan to hang out!



SAN FRANCISCO BEAUTIFUL ARTIST AWARD: AT&T UTILITY BOX PROJECT
(art installed on eight San Francisco sidewalks in the Castro and Mission Districts)
This summer I won San Francisco Beautiful Artist's Award for the winning "AT&T Utility Box" design for the Castro District. San Francisco Beautiful is a non-profit organization that was formed in the 1940s by concerned citizens to save our City's historic Cable Cars. Today the organization still thrives, funding projects that beautify San Francisco. In this project, my final artwork was printed in large-scale sheets, then wrapped around eight ugly utility boxes, to help beautify our city!




SOLO EXHIBITION: THE GIRL IN THE GARDEN
"Noe Valley 2018 Garden and Art Tour," May 19, 10 AM - 6 PM, San Francisco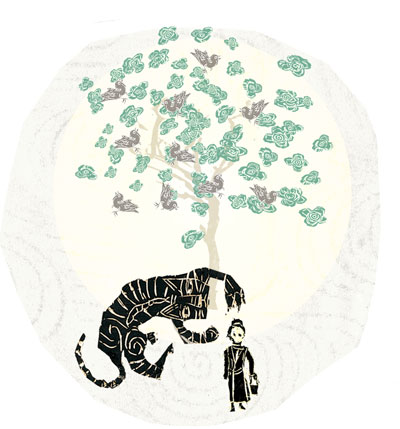 The Garden has served as sanctuary for many a girl throughout the ages - that place where she uncannily uncovers her own true nature. From the 4000 BCE myths of the Sumerian Goddess Inanna to Biblical Eve to Shakespearean Juliette to literary Little Red to you and me, the garden is our place of inner knowing. I am grateful to Bonnie McGregor for inviting me to adorn her lush Noe Valley garden with art in our garden exhibition.





SOLO OPEN STUDIOS 2017: SUMERIAN DREAMS
(At Studio 355, San Francisco)

This year I painted, in series, of the Sumerians: our gifted ancestors who settled in Southern Iraq in the mid-fourth millennium B.C.E - and turned a 10,000 square-mile patch of hot, dry, mineral-less earth into a Garden of Eden. Not only did they create our first cities, governments, laws, religious deities, gender and ethical ideals - the Sumerians also invented Cuneiform, the first writing system to record civilization's first histories, myths and epic tales. Please join me in exploring these 5,000-year old Sumerian stories, which still thrive in modern culture.




SOLO EXHIBITION: METAMORPHOSIS: Paintings in Cultural Code
San Francisco City Hall, San Francisco March 6 - July 1, 2017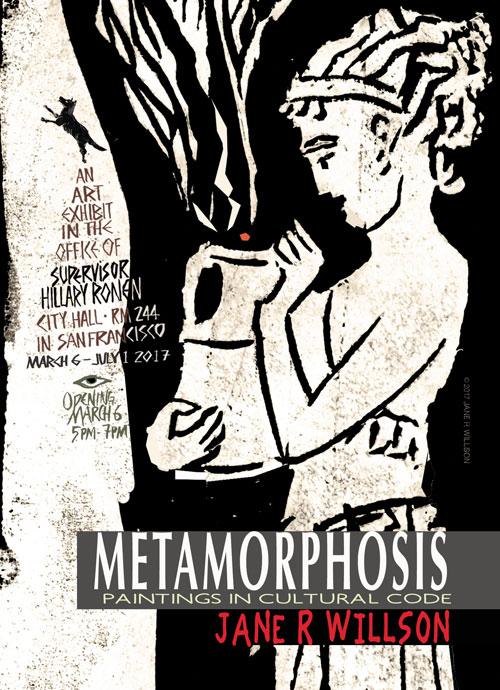 Solo exhibit, "METAMORPHOSIS: Paintings in Cultural Code" on display in the offices of Supervisor Hillary Ronen,
City Hall, San Francisco
---
POP-UP EXHIBITION: NOE VALLEY ARTISTS
At Fort Gallery, San Francisco May 16 - 17, 2015
For my part, I'll be showing four larger paintings, including my "Loup Garou;" a duo of daring armadillos in "Odyssey'; a giant portrait of Red Riding Hood (exhibited at the SF Main Public Library in 2012); and "Nocturne," a wolf, painted on plexiglass--a new painting surface for me (shown above).
MAY 16 - 17; 12 - 6 PM FORT GALLERY 3906 24TH ST. (at Sanchez) SF
IMAGINARY BEINGS: Paintings in Pixels and Wood
(58-page full color, soft cover book, 8 x 10 ")>
I designed Imaginary Beings, the book, as a paper companion to my Imaginary Beings exhibition.
You can peruse the entire Imaginary Beings book in my Blurb shop.
Please do (click here).
---
SOLO EXHIBITION: IMAGINARY BEINGS--PAINTINGS IN PIXELS AND WOOD
At Levy Art & Architecture Gallery February 19 - May 1, 2015
IMAGINARY BEINGS OPENING: FEBRUARY 19, 2015 6 - 9 PM @ Levy Art & Architecture Gallery, 1286 Sanchez Street, San Francisco.
MEET THE ARTIST--FLAX ART AND DESIGN INTERVIEW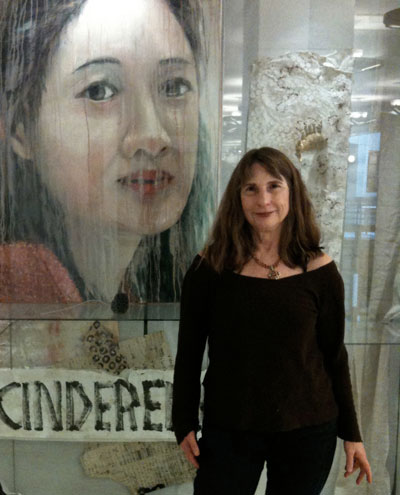 In June 2014, Ellen Reilly, a San Francisco writer and designer, interviewed me for FLAX Art and Design store's "Meet the Artist" blog. I'm so honored!
If you don't know FLAX, it's a family-owned San Francisco art store, legendary for offering artists a wealth of imaginative art supplies since 1938.
To check out my interview, please go here:
http://flaxart.com/flax-canvas/meet-the-artist-jane-willson/
---
SOLO EXHIBITION: NOT SO LITTLE RED RIDING HOOD
(At the Main San Francisco Public Library October 1 - December 31, 2012)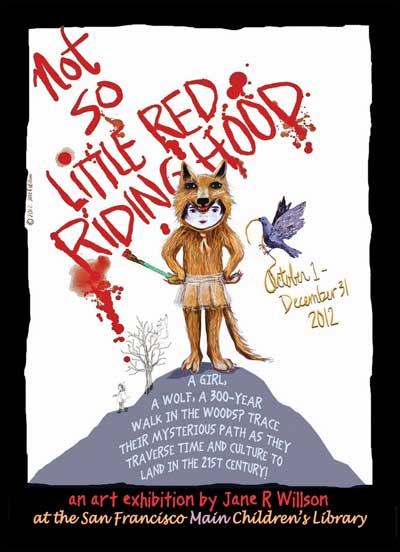 A girl, a wolf a 300-year walk in the woods? Come explore their life story in my latest pop-up art museum exhibition, "Not So Little Red Riding Hood" at the San Francisco Main Public Library (October 1 - December 31, 2012)!
In this exhibit I take over the Main Children's Library exhibition spaces, to install more than a hundred pieces of art--from large-scale portraits to small paintings and 3-D sculptural objects. All adds up to a rich visual terraine for Red and Wolf to guide you through their harrowing woods as they travel through time and culture to land in the 21st century.
All in all, I created "Not So Little Red Riding Hood" to give people of all ages a new view of Little Red: that of an enduring plucky girl who can outfox a big bad wolf if you let her. The exhibition offers a more layered, authentic view of Red Riding Hood and is sure to offer a number of surprises to those of us who thought we knew this story oh too well!
NOT SO LITTLE RED EXHIBITION OPENING: Sunday October 7, 2012 1:30 to 3:30 PM! Please join me for the grand opening of Not So Little Red Riding Hood in the San Francisco Main Children's Library, second floor. I look forward to introducing you to the real Red Riding Hood. And yes--the Wolf will be there too!
---
Video Trailer for: THE SHOCKING TRUTH ABOUT CINDERELLA
(At the Main San Francisco Public Library)
---
SOLO EXHIBITION: THE SHOCKING TRUTH ABOUT CINDERELLA (At the Main San Francisco Public Library)
I invite you to come view The Shocking Truth Of Cinderella, my latest painting Exhibition, that runs from September 1 - November 1, 2011 at the San Francisco Main Public Library (in the Children's Center gallery).
And yes, you might be wondering what could be remotely shocking about Cinderella!? We all know way too much about her already, yes?
Well, probably not. How about if you learned, as I did, that the first Cinderella story was recorded in ninth century China, and there's more than 1000 Cinderella stories worldwide?
This new exhibition features hand-painted and sculpted Cinderella new news for all ages: from small children to grandpeople and everyone in between. For more details, see an article in the San Francisco Library's "At The Library" September newsletter (Pg 3) at http://sfpl.org/pdf/press-room/ATL-2011-09.pdf
Exhibition Opening: Saturday, September 10th 2011, @ The SF Main Public Library, 2pm - 4 pm, 100 Larkin Street, San Francisco
---
OPEN STUDIOS 2011: THE RED FOREST, At Studio 355, San Francisco
Come visit me in my studio and view my latest painting series, The Red Forest.
This exhibit is my bitter sweet song, in paint, to pay homage to an ancient Russian Forest, and all and everyone it contained. A forest buried alive by a nuclear accident, prompted by human error and a frightened government that knew not what else it could scientifically do to remedy the situation.
The Red Forest is not so much dark as it is illuminating. I view it as a dashing tale of how a forest has rallied in a quarter of a century to rise from its ashes and grow its own version of "forest." A radiated Russian Eden, teeming with flora and fauna: trees, flowers, birds, wolves, elk, deer, fox, wild boar and so much more. And all radiated! So radiated that humans dare not disturb them for some unknown number of generations to come...
I hope you can come see and hang out! Plenty of food, refreshments and comradery, I promise. Here are the details:
Studio 355/SF Open Studios
October 1 + 2 (12 noon - 6 pm)
355 29th Street San Francisco
---
---
JANE R WILLSON RECIPIENT OF 2011 PUFFIN FOUNDATION GRANT
---
SOLO EXHIBITION: MAKE BELIEVE AND NOT IN CITY HALL (In San Francisco City Hall, Office of Supervisor David Campos)
.
I am blown away by this fairy castle, nestled in the heart of our beautiful City. Please come view my solo "Make Believe--And Not--In City Hall" exhibit, held in Supervisor David Campos's Office, San Francisco City Hall (2nd Floor). Hours: 9 am - 5 pm Monday - Friday.
Note: The exhibit has been extended for a full 13 month run, now closing on February 31, 2012.